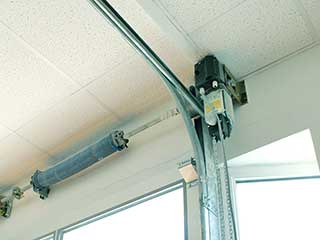 One of the most important components of any electric garage door is the spring that is used to counter the weight of the door. The most commonly used springs are torsion springs and extension springs. The type of spring used in a garage door is mainly dependent on what it is going to be used for. This could be the weight of the door, the number of times it is going to be used, and the power of the motor and other considerations.
Torsion Springs
A torsion spring is a coiled spring that is used to counter the weight of the door in your electric garage door. The purpose of the spring is to aid the garage door motor in opening and closing the door with ease by providing force in the opposite direction of the force generated by the weight of the door. These springs are made from high quality metal, such as stainless steel, which is often plated to ensure high quality and consistent reliability over time.
Spring Replacement and Adjustment
Torsion springs have a limited lifespan depending on the quality of the spring and the number of times the door is opened and closed. The more an electric garage door is used, the higher the likelihood that your spring will need regular adjustments and the sooner you will have to replace the spring. A spring will need adjustments when the garage door is difficult to open or close, if a gap is being left when the door closes, and various other reasons. Spring replacement is required if the spring becomes corroded or loses strength over time.
Safety Measures
Torsion springs are under a great deal of tension and working with these springs could result in injury or damage to property if you are not trained in their proper maintenance and use. The most common injury is sustained when the spring is released suddenly. Our staff is well trained in torsion spring replacement and we ensure that all safety measures are in place so that your electric garage door is maintained or repaired safely and that its use poses no threat to you.
Garage door replacement, and the adjustment and replacement of springs are very dangerous activities and it is recommended that you employ professionals like us to help you with these types of tasks. We at Garage Door Repair Cedar Grove pride ourselves on our commitment to quality workmanship, efficiently and safely.
But wait, there's more! We also offer:

Oil Tempered Torsion Springs

Garage Door Remote Clickers

Emergency Garage Door Repairs

Roll up Garage Door Maintenance